For us, Guerrilla Games' Horizon series was great from the start, but it gets better every time we return to it. Horizon Forbidden West is a great sequel, building on the first game in practically every way – a bigger, more diverse open world, better ensemble cast, more interesting side quests, and improved traversal, to name a few. Burning Shores, the DLC expansion, is mostly the same, but adds enough to make it worth a visit.
Directly following on from the events of the main game, Silence tasks Aloy with tracking down an important loose end in the titular area. We won't give away spoilers, but it's safe to say that this expansion serves as a neat bridge from Forbidden West to Horizon 3. Gorilla doubles down on its bonkers sci-fi story, and it's delivered with such gusto that we can't help it. But I like stupidity. If you did too and enjoyed what the base game had to offer, you'll definitely enjoy that side of the story here.
But let's not get too ahead of ourselves. Aloy crash lands on a burning shore and is immediately confronted by Sega, a member of Gwen's tribe, which is now stranded and missing many of its members. This new character joins Aloy in her main quests and proves that she is just as capable as our heroine, which is a rarity in these titles. He's another welcome addition to Horizon's vast cast, and one who challenges Aloy in new ways, helping to humanize a protagonist who was a minor figure in Forbidden West.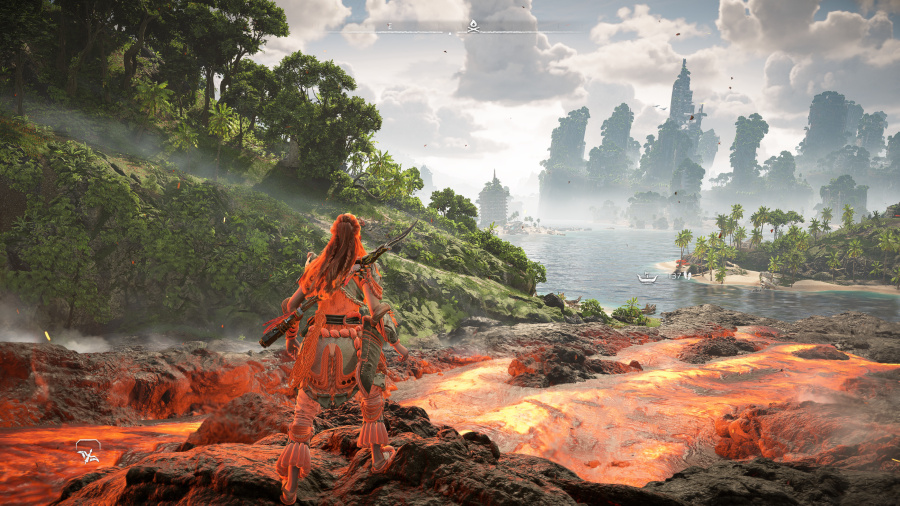 The main set of quests is five strong, and all of them are quite long. Depending on your pace you're looking at six to eight hours, not even considering the other things to do in the expansion. The story takes you to some fantastic places, lays the groundwork for the inevitable sequel, and as heavily hinted at, a Horus will indeed wake up. Let's just say it was a fantastic finale; The size of this setpiece is off the charts, and is probably one of the main reasons why this DLC is PS5 only.
But the story only takes you to a few places on the burning shore. The map is substantial – about a third the size of the main game – and features a mix of dense jungle, sandy beaches, open water and flowing lava, with old-world ruins to remind you of what Los Angeles once was. It's visually pretty, as you'd expect, though there's noticeable pop-in when you're flying. While exploring the map is a lot of fun, some parts of Burning Shores are unlikely to do anything beyond a few glances. Main quests are often concentrated in one area of ​​the map, while a couple of side quests spread things out, but one or two areas are often skipped.
There are new collectibles to find, a relic ruin to solve, a cauldron to infiltrate, and a few new machines. The Waterwing will become your new best friend – a flying mount that can jump underwater and make swimming super fast. There are two more to discover, both great additions to the list that will test you in different ways.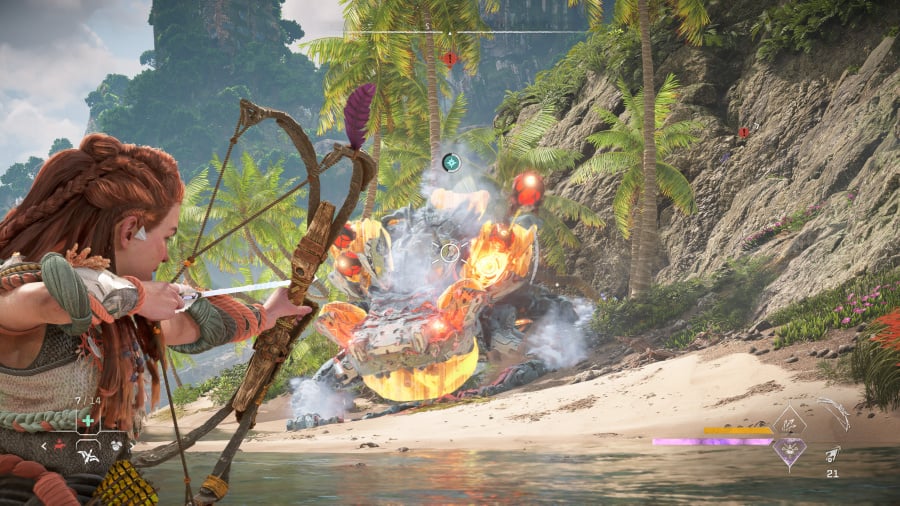 There's also a selection of new weapons and outfits to use, but the range of new abilities makes the most impact. A dozen additional abilities and six more hero waves give you even more combat options. Many introduce new ideas like firing weapons while gliding, dealing elemental damage with your spear, and dropping large shields. Others enhance existing dynamics; For example, one skill allows you to grab a fallen machine, and if you press a button to the right, use resonator energy, which you can fire for a large amount of damage. These new abilities (and a new level cap) give players some new options, and make the chaotic combat even stronger.
Conclusion
Like Frozen Wilds did with Horizon Zero Dawn, Burning Shores takes what was already great about Forbidden West and gives you a substantial new playground and more toys to play with. The archipelago is great fun to explore by land, sea or air, with plenty of interesting things to see and do. Some parts feel a little underused, but overall it's a great expansion that continues Aloy's story and sets up things to come in Horizon 3.